June 28, 1969: The Spark That Lit The Fire
The History of the Stonewall Uprising
This exhibit was created by The Center on Colfax's Colorado LGBTQ History Project to commemorate the 50th anniversary of the Stonewall riots.
Thank you to the Mountain States Against Hate Coalition for supporting this exhibit.
Thank you to our editorial contributors: Sarah Crocker, David Duffield, Emily Ferrufino-Coqueugniot, Owen Flaherty, Rex Fuller, Carol Hiller, and Douglas Langworthy.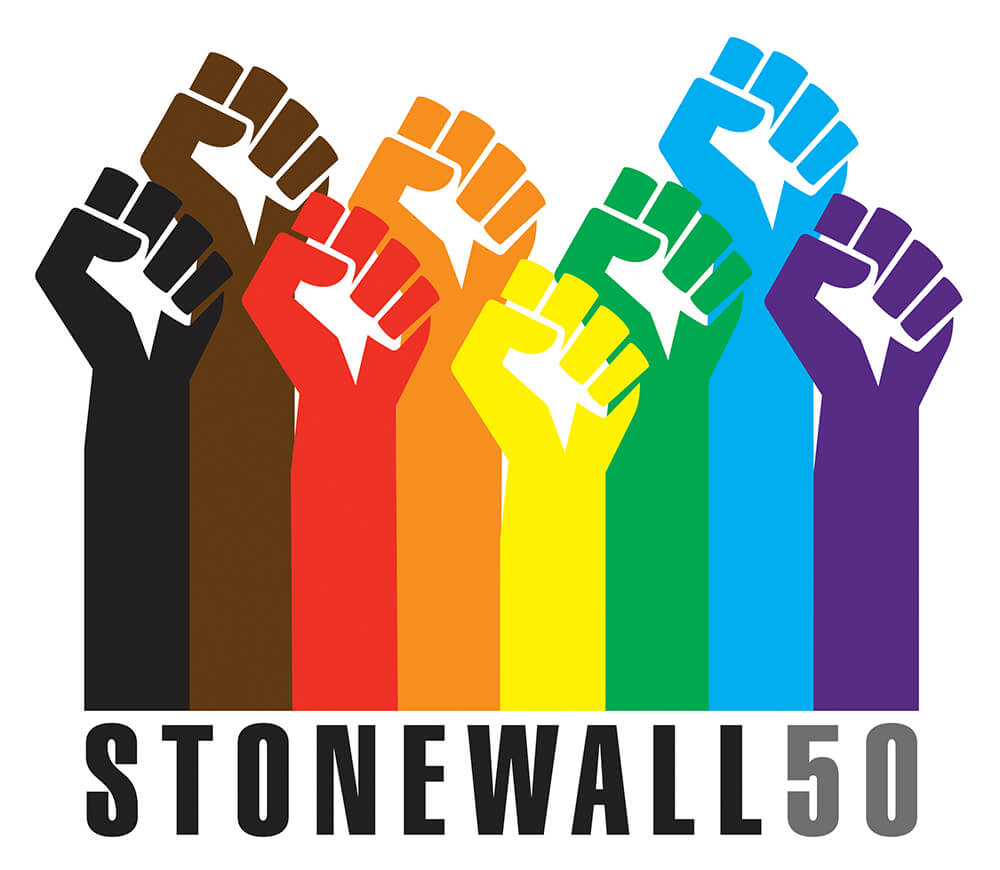 Online Resources
Life Before Stonewall
"The Homosexuals"
CBS Reports broadcasts "The Homosexuals" in 1967, presenting a window into gay life before Stonewall.
The Black Cat Tavern
The riot and subsequent protests at Los Angeles's Black Cat Tavern predated Stonewall by two years. Los Angeles TV station KCET produced this short documentary about the historic event in 1967.
Homosexuality at the Movies
The Celluloid Closet (1995)
Narrated by Lily Tomlin, this acclaimed documentary takes its name from Vito Russo's groundbreaking book. The filmmakers examine the subtext of more than 100 Hollywood movies -- including Spartacus, Rope and Thelma and Louise -- and chart the cinematic journey of lesbian and gay characters. Film clips are paired with director, producer and actor interviews featuring, among others, Gore Vidal, Tom Hanks and Whoopi Goldberg.
Pay It No Mind: The Life & Times of Marsha P. Johnson 
This documentary gives a fascinating look into the life of activist Marsha P. Johnson.
Sylvia Rivera: Speaking Her Truth
Though they tried to prevent her from speaking, radical activist Sylvia Rivera stormed the stage at Christopher Street Liberation Day 1973. Watch her speak in this YouTube video.
Activism Inspired by Stonewall
Women's Bookstores
Check out this short documentary about the history and impact of women's bookstores.
The Save Our Children Campaign
Anita Bryant: News report about the Save Our Children campaign
CBS reporter Barbara Howar confronts Anita Bryant in a 1977 interview.
Anita Bryant: The Pie in the Face
News coverage of the Iowa press conference where activists hit Anita Bryant in the face with a pie.
The Assassination of Harvey Milk
Interview with Senator Dianne Feinstein
At the time of the assassinations, Feinstein was President of the San Francisco Board of Supervisors. She heard the shots and called the police, and when Mayor Moscone was killed, she became mayor of the city. In this interview, she speaks publicly about her experience.
The 1979 March on Washington for Gay & Lesbian Rights
Watch this short documentary about the groundbreaking 1979 march.
Exhibit Bibliography
Thank you to our editorial contributors: Sarah Crocker, David Duffield, Emily Ferrufino-Coqueugniot, Owen Flaherty, Rex Fuller, Carol Hiller, and Douglas Langworthy.
Exhibit Bibliography compiled by Emily Ferrufino-Coqueugniot.
Primary Resources
Archival Materials
Bill Olson Papers. WH2344. Western History Collection. The Denver Public Library.
Newspaper Articles
"Lesbian Feminists, Women's Coalition Clash in Denver March." Rocky Mountain News, March 7, 1976.
"Gays March in Protest of Slaying Action." Denver Post, April 3, 1978.
"4 Policemen Hurt in 'Village' Raid." New York Times. June 29, 1969.
"Police Again Rout Village Youths: Outbreak by 400 Follows a Near-Riot Over Raid." New York Times. June 30, 1969.
"Hostile Crowd Dispersed Near Sheridan Square." New York Times. July 3, 1969.
"Village Streets Cleared." Corpus Cristi Times. June 30, 1969.
Untitled Opening Article. Come Out! November 14, 1969.
"Joel Fabricant Perverts Gay Power." Come Out! November 14, 1969.
"Suite Charges Harassment of Homosexuals." Rocky Mountain News, June 28, 1973.
Ashton, John. "Vice Patrolman Cleared in Death of Transsexual." Rocky Mountain News, April 20, 1978.
Delsonn, Gary. "Bill to Halt Gay Soliciting Advances." Rocky Mountain News, May 5, 1979.
Kane, George. "30 Arrested, 8 Hurt at Pop Festival Melee." Rocky Mountain News. June 30, 1969.
Pardue, Bill. "Council Hears Gay-Harassment Charges." Denver Post, April 25, 1978.
Parmenter, Cindy. "Pact May End Homosexual, Police Hassle." Denver Post, October 4, 1974.
Rogers, Andy. "Homosexuals Protest Criminal-Code Draft." Denver Post, October 24, 1973.
Rounds, Michael. "Police Put Heat on Homosexuals." Rocky Mountain News, June 11, 1968.
Whearley, Bob. "Homosexuals in Denver: 'Militant Minority' Poses Serious Problem for Society," Denver Post, February 14, 1965.
Whearley, Bob. "Clientele Feels Safer in 'Gay Bars'." Denver Post, February 16, 1965.
News Reports:
Secondary Resources
Books
Avicolli Mecca, Tommi. Smash the Church, Smash the State! The Early Years of Gay Liberation. San Francisco, CA: City Lights Books, 2009.
Bronski, Michael. A Queer History of the United States. Boston: Beacon Press, 2011.
Bullough, Vern L., ed. Before Stonewall: Activists for Gay and Lesbian Rights in Historical Context. London and New York: Routledge, 2014.
Carter, David. Stonewall: The Riots that Sparked the Gay Revolution. New York: St. Martin's Press, 2004.
Chauncey, George. Gay New York: Gender, Urban Culture, and the Making of the Gay Male World 1890 – 1940. New York: BasicBooks, 1994.
D'Emilio, John. Sexual Politics, Sexual Communities: The Making of a Homosexual Minority in the United States, 1940 – 1970.  2nd ed. Chicago & London: University of Chicago Press, 1998.
Duberman, Martin. Stonewall. New York: Open Road Media, 2013.
Engle, Steven M. The Unfinished Revolution: Social Movement Theory and the Gay and Lesbian Movement. Cambridge, UK: Cambridge University Press, 2001.
Faderman, Lillian, and Stuart Timmons. Gay L.A.: A History of Sexual Outlaws, Power Politics, and Lipstick Lesbians. New York: Basic Books, 2006.
Heap, Chad. Slumming: Sexual and Racial Encounters in American Nightlife, 1885-1940. Chicago & London: University of Chicago Press, 2009.
Hogan, Kristen. The Feminist Bookstore Movement: Lesbian Antiracism and Feminist Accountability. Durham & London: Duke University Press, 2016.
Johnson, David K. The Lavender Scare: The Cold War Persecution of Gays and Lesbians in the Federal Government. Chicago & London: University of Chicago Press, 2004.
Kaiser, Charles. The Gay Metropolis: The Landmark History of Gay Life in America. Boston, MA: Houghton Mifflin, 1997.
Loftin, Craig M. Masked Voices: Gay Men and Lesbians in Cold War America. Albany, NY: State University of New York Press, 2012.
Loughery, John. The Other Side of Silence: Men's Lives and Gay Identities: A Twentieth-Century History. New York: Henry Holt and Company, 1998.
Russo, Vito. The Celluloid Closet. Revised Edition. New York, London, Mexico City, São Paolo: Harper & Row, 1987.
Sears, James T. Behind the Mask of the Mattachine: The Hal Call Chronicles and the Early Movement for Homosexual Emancipation. New York: Routledge, 2006.
Signorile, Michelangelo. Queer in America: Sex, the Media, and the Closets of Power. New York: Random House, 1993.
Strausbaugh, John. The Village: 400 Years of Beats and Bohemians, Radicals and Rogues. New York: Harper Collins, 2013.
Stein, Marc, ed. Encyclopedia of Lesbian, Gay, Bisexual, and Transgender History in America. 3 vols. New York, Detroit, San Diego, San Francisco: Thomson Gale, 2012.
Stryker, Susan. Transgender History: The Roots of Today's Revolution. 2nd ed. New York: Seal Press, 2017.
Vaid, Urvashi. Virtual Equality: The Mainstreaming of Gay & Lesbian Liberation. New York: Anchor Books, 1995.
Warner, Sara. Acts of Gaiety: LGBT Performance and the Politics of Pleasure. Ann Arbor: University of Michigan Press, 2012.
Journal Articles
Armstrong, Elizabeth A., and Suzanna M. Crage. "Movements and Memory: The Making of the Stonewall Myth." American Sociological Review 71, no. 5 (October 2006): 724-51.
Baughey-Gill, Sarah. "When Gay was not Okay with the APA: A Historical Overview of Homosexuality and its Status as Mental Disorder." Occam's Razor 1, (2011): pp. 6-16.
Browne, Kath. "Lesbian separatist feminism at Michigan Womyn's Music Festival." Feminism & Psychology 21, no. 2 (May 2011): 248-256.
Conner, B. M., Esq. "Salvaging Safe Spaces: Toward Model Standards for LGBTQ Youth-Serving Professionals Encountering Law Enforcement." Journal of Gender, Social Policy & the Law 24, no. 2 (March 2015): 199-241.
Drescher, Jack. "Out of DSM: Depathologizing Homosexuality." Behavioral Sciences 5, no. 4 (December 2015): 565-575.
Flately, Jonathan. "Just Alike." Social Text 32, no. 4 (Winter 2014): 87-104.
Ghaziani, Amin, and Delia Baldassarri. "Cultural Anchors and the Organization of Differences: A Multi-method Analysis of LGBT Marches on Washington." American Sociological Review 76, no. 2 (March 2011): 179-206.
Gilmore, Stephanie, and Elizabeth Kaminski. "A Part and Apart: Lesbian and Straight Feminist Activists Negotiate Identity in a Second-Wave Organization." Journal of the History of Sexuality 16, no 1 (January 2007): 95-113.
Goldberg, Eve. "Riot at the Black Cat." The Gay & Lesbian Review Worldwide 19, no. 3 (May-June 2012): 10-12.
Hall, Simon. "Protest Movements in the 1970s: The Long 1960s." Journal of Contemporary History 43, no 4 (October 2008): 655-72.
Josipovic, Andrea. "The Hirschfeld Archives: Violence, Death, and Modern Queer Culture." Australian Feminist Studies 32, no 94 (October 2017): 461-463.
Retzloff, Tim. "Eliding Trans Latino/a Queer Experience in U.S. LGBT History: Jose Sarria and Sylvia Rivera Reexamined." Centro Journal 19, no 1 (Spring 2007): 140-61.
Newspaper Articles
Radio Broadcasts
Movies
Epstein, Rob and Jeffrey Friedman, dir. The Celluloid Closet. Written by Rob Epstein, Jeffrey Friedman, and Sharon Wood. 1996: Channel Four Pictures and HBO Films.
Kasino, Michael, dir. Pay It No Mind: The Life and Times of Marsha P. Johnson. Written by Richard Morrison. 2012: Redux Pictures. Accessed September 16, 2018. https://www.youtube.com/watch?v=rjN9W2KstqE.
Blogs
Websites/Databases