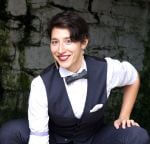 In my eight years as a bodyworker, I have committed to help my clients get out of pain and feel more comfortable moving through life. I love to listen, to support, and build a safe space for connection.
As a lifelong athlete and personal trainer, I see the incredible value of therapeutic massage to assist in training, preventing injury, and easing recovery. In addition to studying deep tissue, sports massage and assisted stretching, I incorporate Thai massage techniques into my sessions to give clients more lasting relief.
As a non-binary person, I seek to serve my community. Many of my clients are queer and trans; a growing part of my work has been providing a safe space for clients in transition. I am committed to providing respectful care to anyone on my table.
Outside of my work, I am an enthusiastic cyclist, a novice rock climber, an avid dancer in the swing + blues community, and an emcee.
DISCLAIMER: The businesses, services and organizations are listed in this directory as a service to the LGBTQ community. The Center makes no promises or guarantees about the accuracy or quality of the services being offered. The community is advised to carefully review the organizations listed in this Resource Directory before making a decision about utilizing any listed services.
If you discover incomplete, false or misleading information on this directory, please send corrected information to info@lgbtqcolorado.org.
NON-DISCRIMINATION AGREEMENT: Vendors, contractors, sponsors, community groups, staff and volunteers, and all other personnel associated with The Center's Resource Directory agree at all times to honor and abide by the following statement of non-discrimination in word and action. Anyone associated with the Directory, or their employees or associates found to be in violation of this agreement will be removed from the Directory.
"All persons associated with The GLBT Community Center of Colorado (The Center) and its Resource Directory will provide service to individuals without regard to an individual's sexual orientation, gender identity/expression, HIV/AIDS status, race, color, national origin, ancestry, creed, religion, sex, gender, physical or mental disability, age, marital status, military status, veteran status, citizenship or any other protected classification in accordance with state, federal and municipal laws."