Featured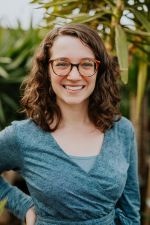 You and your partner have been through it all: navigating the ups and downs with family, careers, and life. You're feeling stuck: struggling to communicate, to see each other, to hear each other. You want to feel closer, more passionate, more intimate, more secure in your relationship. You want to build a future together in a real way, rooted in your shared goals. I support couples of all sexuality and gender identities with reclaiming their relationship from painful arguments, disempowering assumptions, and disconnection.
I specialize in queer relational health with an emphasis on communication. I help couples get to the root of their miscommunication through helping them clarify what they want to say and help decrease anxiety during emotionally complex moments so partners can hear each other with care.
I'm an LGBTQ+ therapist and I provide a welcoming place to work toward your goals for a more balanced and thriving relationship. Your time is valuable so I've made it simple to get in touch quickly and easily with a scheduling app on my website – all you have to do is click and pick a time that works best.
Send Message to listing owner
DISCLAIMER: The businesses, services and organizations are listed in this directory as a service to the LGBTQ community. The Center makes no promises or guarantees about the accuracy or quality of the services being offered. The community is advised to carefully review the organizations listed in this Resource Directory before making a decision about utilizing any listed services.
If you discover incomplete, false or misleading information on this directory, please send corrected information to info@lgbtqcolorado.org.
NON-DISCRIMINATION AGREEMENT: Vendors, contractors, sponsors, community groups, staff and volunteers, and all other personnel associated with The Center's Resource Directory agree at all times to honor and abide by the following statement of non-discrimination in word and action. Anyone associated with the Directory, or their employees or associates found to be in violation of this agreement will be removed from the Directory.
"All persons associated with The GLBT Community Center of Colorado (The Center) and its Resource Directory will provide service to individuals without regard to an individual's sexual orientation, gender identity/expression, HIV/AIDS status, race, color, national origin, ancestry, creed, religion, sex, gender, physical or mental disability, age, marital status, military status, veteran status, citizenship or any other protected classification in accordance with state, federal and municipal laws."