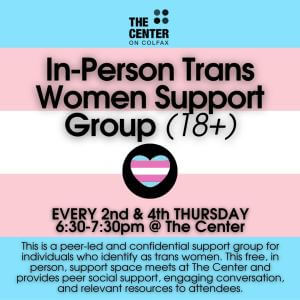 MUST BE 18 YEARS OLD
Description: This is a peer-led and confidential support group for individuals who were assigned male at birth and identify as trans women, trans feminine, and/or male-to-female (MtF).  This free support space provides peer social support, engaging conversation, and relevant resources to attendees. 
If you are interested in participating in one of our Transgender Services Support Groups, contact Sable Schultz, Manager of Transgender Services at sschultz@lgbtqcolorado.org.