written by Bryant Mehay
On or about May 19, 2022, Bryant Mehay announced to those present in the Open Art Studio of the Center on Colfax, "We need a name for the group piece." Michael King looked up, replied, "GROUP PEACE" and returned to mixing paint.
I had been wondering the last few weeks if the museum people, even if the "Dads" for that matter (Jason Eaton and Bryant Mehay) were cognizant that these artists, (ok, me too) were - are not just stubborn old fffolks. There were - are some real rebels among us, with some long histories of pushing back against the "establishment."
There we were with the Dads and the museum people looking at us sternly. How many times did we have to be told, "Remember everyone, all of the pieces have to be PG-13." What did they think we were? A bunch a sex-crazed, pornographic… Oh, never mind!
It was so exciting for me when I first came to The Center on Colfax's Open Art Studio on 02.10.22. First, I was happy to learn that my leatherwork would be acceptable in the studio. Second, as I had hoped, there were other programs at the Center in which I could get involved.
Soon it became even more exciting when Jason announced that, after some previous association with the Denver Art Museum (DAM) , the artists of the Open Art Studio were invited to put together an exhibition at the DAM. WHAT? Everyone's wheels started turning as we each began thinking of our own individual pieces. I was anxious to find out if my leatherwork would be acceptable. It was. I also decided to move ahead with an idea in a whole different medium that had been cooking in my head for about 6 months.
That day or soon thereafter, Jason also informed us that the DAM folks were encouraging us to do a group project. I got to thinking of a leather piece I made at least 20 years ago. I considered it a "failed" project because I couldn't get a stick "frame" of sorts to work. I laid it aside and forgot about it - almost.
From this piece, I had an idea of an adaptation. Allow me to explain my belief on ideas. They are floating all around in the Universe. Once in a while, one of those ideas will drop out of the surrounding Universe into my conscious mind, at which point I shout, "EURIKA!" or more likely, "oo, oo, oo!!"
As delighted as I become, I will not take credit for the idea. I will, however, take credit for grabbing the idea and running with it!
So again, from my leather piece, I sketched out a design that I thought could work for a group project and began bringing it up with Jason and the artists. Jason was enthusiastic. The artists? Not so much - that I could tell. Remember, I'm new. So far, I'm liking everyone, but I don't know anyone very well.
The days go by. The excitement is growing as more of our questions are answered and we continue to work with DAM staff in this and other artistic ventures.
There is still not a heck of a lot of enthusiasm for the group project. I'm thinking if we could get Michael King and Tom Schasane on board, we'd be on our way. In my short time there, I observed that Tom and Michael were some of the core members of the Open Art Studio. They attended regularly and were strong-willed people. Tom had shown me some pics of both of their work. I was awestruck and overcome with new respect for their talent and skill, NOT TO MENTION decades upon decades, upon decades, upon decades… I could only imagine the great contributions they would make to the group project.
Jason told me to go ahead and get started on the group project even if everyone wasn't all in just yet… I knew I wanted to make the rainbow rays out of a light plywood. I found some very thin plywood, thinnest I ever sawed, and made 2 sets of 6 rainbow rays starting about 1.5 feet and graduating up to 3.5 feet.
Tom was the first one to take on the job of getting these painted, not a simple task. Only a few of the artists were skilled in mixing acrylics. The rest of us followed their direction as best we could…
On March 24, 2022, we met at the DAM to view the space for our upcoming exhibit. I spotted a very nice wall that I thought would work nicely to have our group piece installed on.
Lindsay with the DAM reacted with alarm, "Oh no! These walls were just redone at a cost of $5 Billion!!"
I then reacted with sarcasm (to myself), "Oh, My Bad! I thought this was a museum!"
We continued to brainstorm. Let me make note that it was Jason Eaton who brought up the idea of "a kind of a mobile." A few of us began to wander around our exhibit space. Then Michael was beside me. Tom too. Maybe Steve. We were all looking around talking, speculating, when Michael began speaking authoritatively. I assert that he was giving me orders; Michael insists that he does not give orders. He gives suggestions. Alright, Michael King gives suggestions that have Steve Calcagno and me steppin' and fetchin' like they are orders. (and loving every minute of our free art lessons).
Michael was giving me measurements for the wall that I was going to build. "We don't need your stinkin' wall!! We are consulting about the measurements and I'm writing as fast as I can. What I want to do is jump up and down and cheer, "We got Michael on board! We got Michael on board!"
Speaking of boards, I'm off to Home Depot! I always feel a little … romantic at hardware stores … it's the power tools I think. At home I go about making the frame for our group project. This is different than anything I have ever built before in that we want to be able to somewhat easily take it apart later if need be.
The next week in the studio, I brought up the figures in the design below the rainbow rays. Michael said, "Make wire figures." He and Tom began discussing artists who work in wire, primarily Alexander Calder. We researched his work and I went home with Michael and Tom to see 2 pieces of Michael's work. They were wire figures, covered in de coupauge and painted beautifully.
There it was. Brilliant. To personalize GROUP PEACE in the most delightful way.
In the process of getting the frame built just right and painting the rainbow rays just right, 13 different artists were sent home with their own figure to decorate. Michael was good enough to complete his quickly to give the rest of us a nice example to follow.
Jason was making sure that we didn't forget about important exhibit-related deadlines. An important deadline was looming and the artists were getting psyched up to push hard on Thursday, 5.26.22. WELL… the schedule had to be juggled because of weather. There would be no crunch day on Thursday 5.26.22. Some of us, (or maybe just me), were concerned about the deadline.
Steve and I decided to come in on Friday, 5.27.22, and Michael came too. The three of us were having a lovely, peaceful time in the studio. At one point, Michael confided to me, "You know, I didn't want to do this group project, but I could see that you guys didn't know what you were doing." Ok, Master Michael, I'll give you that. I asked him, "Tom neither?" Michael said nothing just looked at me and shook his head. "Well I sure am glad you guys got involved, " I answered.
So that deadline had been messed up, then I think the Universe smiled on us. The museum people caused us to throw off more deadlines, giving us an extra 2 weeks. What a relief!
Meanwhile, the completed figures were coming in, forming quite an eclectic collection. Smiles began to predominate in the studio.
June 2 became the big day in the studio. We told Jason that we thought we could finish the group project that day. There ended up being 10 - 12 people in the studio. Everyone was eager to help and it was great. Then it came down to me and Steve following Michael's direction in tying the rainbow rays together with fishing line. The rest were left to visit while working on posters for the PRIDE Parade. It was a very festive atmosphere (though sometimes tense).
Up until the end of stringing it together and hanging it on the frame, I thought we were making a mobile "of sorts" - not real friggin mobiles. Art and Johnny were getting ready to leave after a long, fun day. In my excitement I called out loudly,"Wait guys!" "Were almost done with one part!"
Our elder statesman, Art Felt agreed to stay while joking that it took him a long time to get up to go, now it was going to take a minute to sit back down. But, oh was it worth it! To see that first mobile hanging from our colorful frame brought amazement and joy from all of us.
There's more to tell. Steve and I put in 2 more sessions of touching up those 12 rainbow rays - right up to the last minute. Under the circumstances, I think it was appropriate to feel a small measure of hatred toward those rays. Finally, with Jason at the wheel of his big 'ol truck, he, Steve and I triumphantly drove a well-strapped GROUP PEACE straight (so to speak} down Colfax to the Denver Art Museum with a rainbow flag
justa' flutterin' out tha back!
I don't know about anyone else, but I'm looking forward to getting back to the usual rhythm of the Open Art Studio. I can see it now: Each of the artists straggling in whenever they please, finding their place at the table, then gravitating towards the coffee and donuts, "We need Splenda!" one of the Elders announces. And another week will have begun...
We are open to all. Please join us.
Introducing the Dolls
Throughout my telling of the story of GROUP PEACE I have called them "figures."
As artists began bringing in their finished figures,
we have settled on a more personable "Dolls."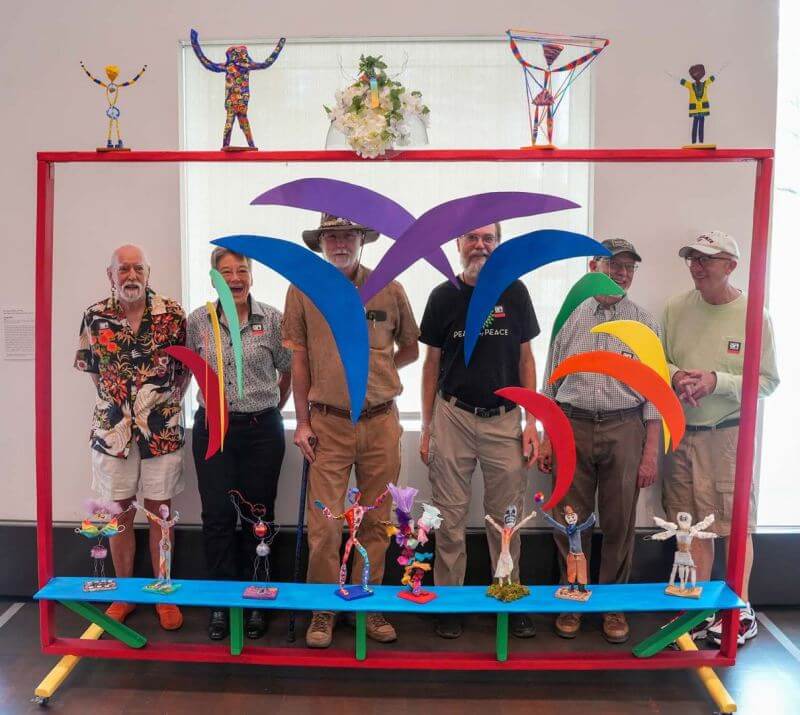 Bottom, Left to Right:
Kathleen Kelleher - "Eye Of The Beholder" in the genre of so-real.
David Burrows - Years of doodling this pattern, this mandala of human energy.
Robin Cohen—"XX Story" shines a light on the double impact of breast cancer on lesbian couples. Robin knows, having lost a Wife and other family members to breast cancer.
Micheal King - "Mr. Wonderful" Just a happy guy with a very expensive suit. Regrettably, he had to be PG-13," Michael adds mischievously.
Steve Calcagno - "SteveAnne Scraps - A Self-Portrait " Created from items found in the studio.
Ken Felts - "Peaceful Warrior" Clothed in Ken's home-crafted paper.
Phillip Hoyle - "I Wanted To Be A Cowboy." A charming lament.
John Cray - "Vitruvian Man" as perceived by John Cray with available materials.
Top, Left to Right:
Avis Blankenship - "Long Live Ukraine" started with a yellow balloon head for a Paula visit, then added blue to yellow as a prayer for Ukraine.
Tom Schasane - "The Roaring Silence Between the Raindrops"
Richard White - "Allegory For Spring" Inspired by Rafael, Vivali's Spring, "Holiday Barbie… Richard could have gone on; he was very inspired.
Bryant Mehay - "Ties That Bind" Made of one, continuous strand of yarn to symbolize one, complete person, connected, in movement.
Keithland Wilhite - "Every Black Man"