Celebrated around the world annually on March 31, Transgender Day of Visibility is a day dedicated to recognizing the accomplishments of transgender and gender diverse people, and raising awareness of the work that still needs done to achieve trans justice.
In honor of Trans Day of Visibility this Friday, we are spotlighting a few of the many influential and accomplished trans and non-binary people from recent history.
Wendy Carlos
Wendy Carlos (she/her) is a composer and pioneer of electronic music, and also became the first transgender person to win a Grammy Award in 1970. Wendy scored many movies, including A Clockwork Orange, The Shining, and Tron, and her work as a composer has been sampled by artists like ABBA, The Rolling Stones, The Beatles, and Donna Summer. In addition to her musical career, Wendy is an accomplished photographer and has been featured by NASA and in Sky & Telescopes for her solar eclipse photography.
Danez Smith
A founding member of the multicultural Dark Noise Collective, Danez Smith (they/them) is one of America's greatest rising poets. They have authored multiple award-winning poetry collections, and their work draws from their experience growing up in Minnesota and their status as HIV-Positive. Danez has rejected being pigeonholed as a writer of "angry black poems," instead focusing on the power of healing & joy of their identity and experience.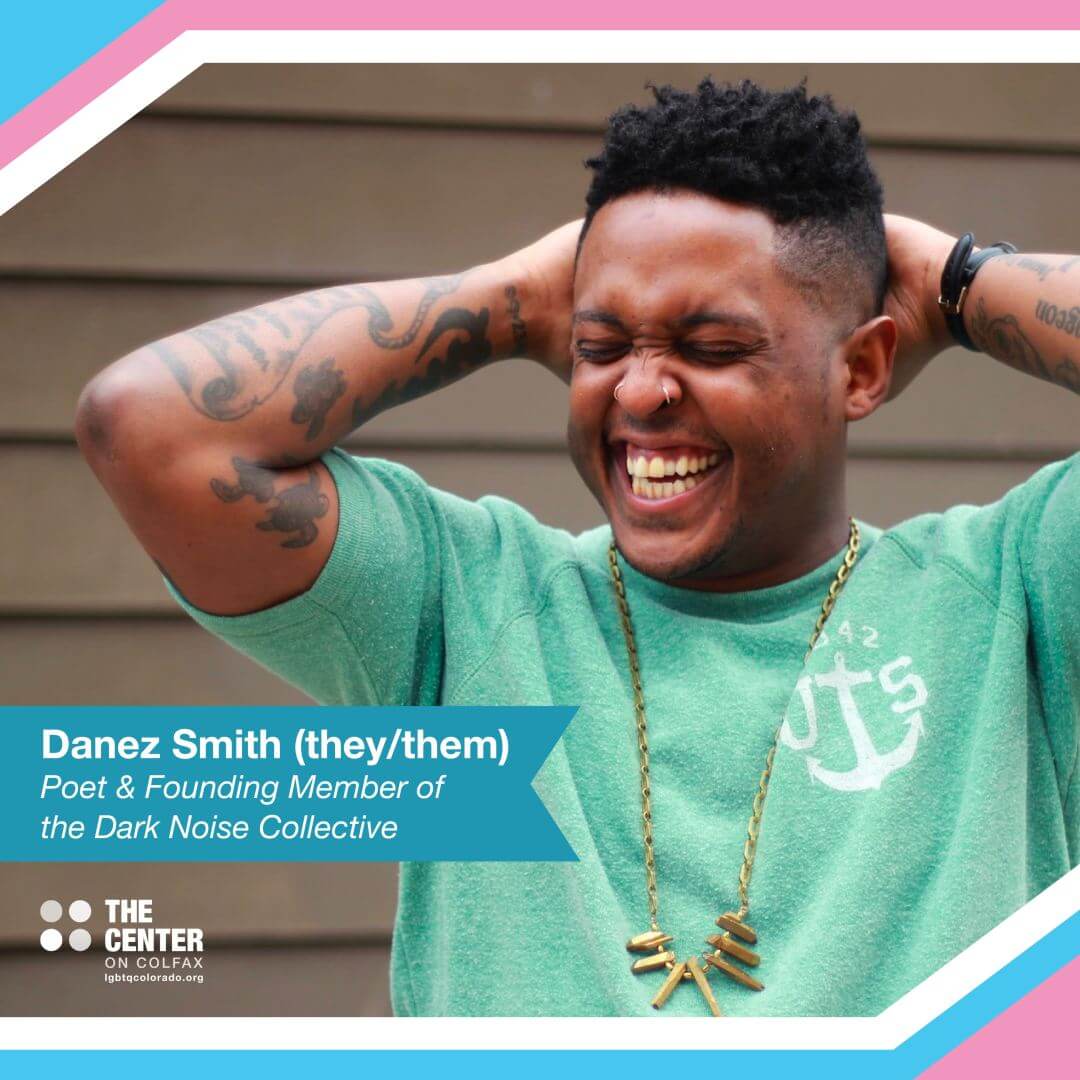 Nikki Hiltz
Nikki Hiltz (they/them) is a non-binary track star who has won gold at the 2019 Pan-American Games, bronze at the 2019 USA Outdoor Track and Field Championships, and silver at the 2022 New York Road Runners. They are a trailblazer of trans rights in the sporting world and have become a viral sensation on TikTok (@Nikki_Hiltz) through discussing their journey and the power of representation. Nikki is trying to create space to be a nonbinary athlete in the gendered world of sports and start conversations around how to loosen these "strict binaries" in our society. "I think sport could actually be one of the first places that change can happen," they say.
Nicole Maines
After the HBO documentary, The Trans List, chronicled her family coming to terms with her coming out as a trans woman, Nicole Maines' (she/her) acting career took off. Nicole has acted in various movies, and most notably was cast as Nia Nal in CW's Supergirl series, becoming the first openly trans superhero. Nicole's life and advocacy were defined by her involvement as the anonymous plaintiff in the court case Doe v. Regional School Unit 26. After Nicole's elementary school barred her from using the girls' bathroom, she worked with Maine's Human Rights Commission to stand up against the transphobic school policy. In 2014, Maine's Supreme Court voted 5-1 that the school violated the state's Human Rights Act by barring Nicole from the girls' bathroom, redefining trans rights in Maine and providing legal basis for other successful lawsuits against bathroom bans around the nation.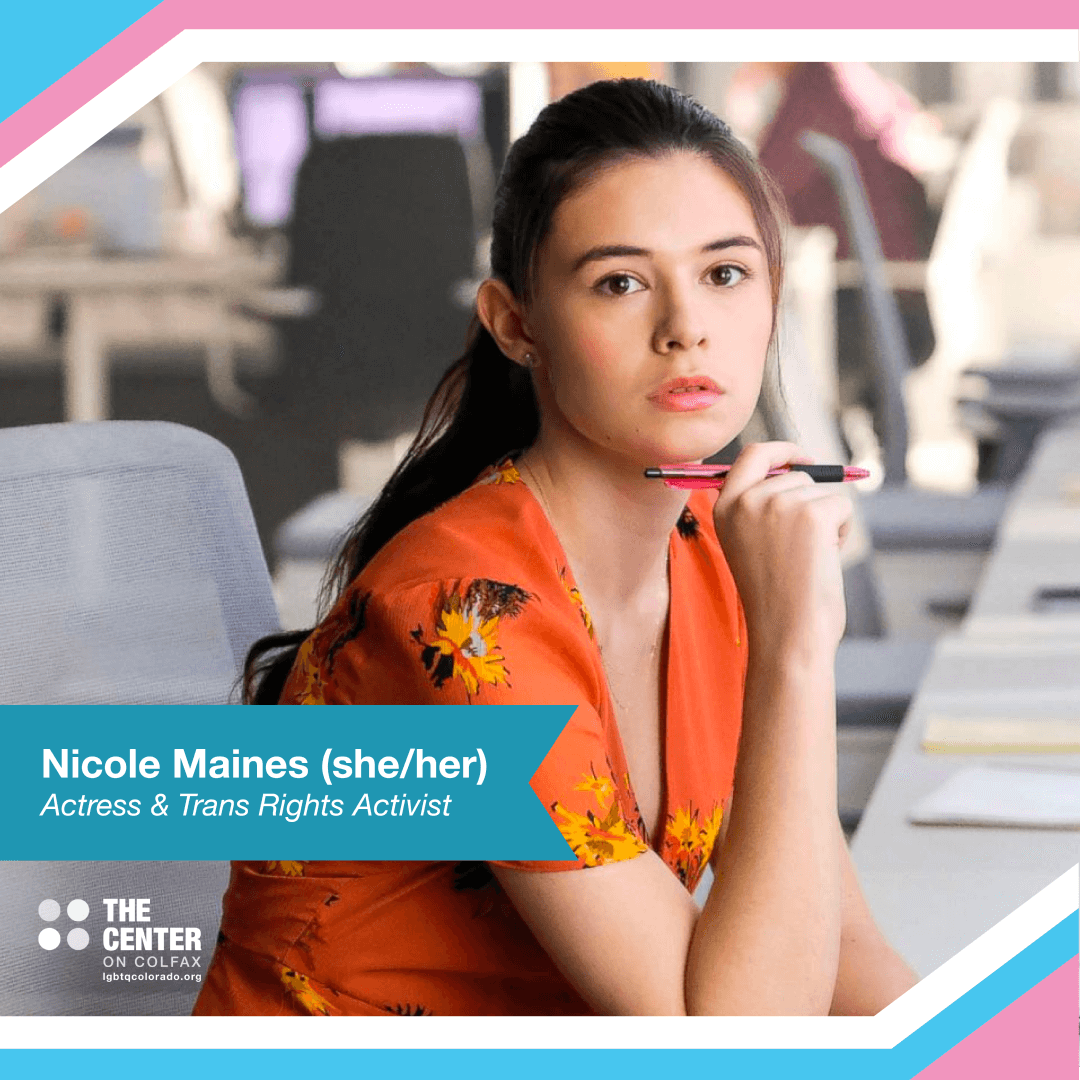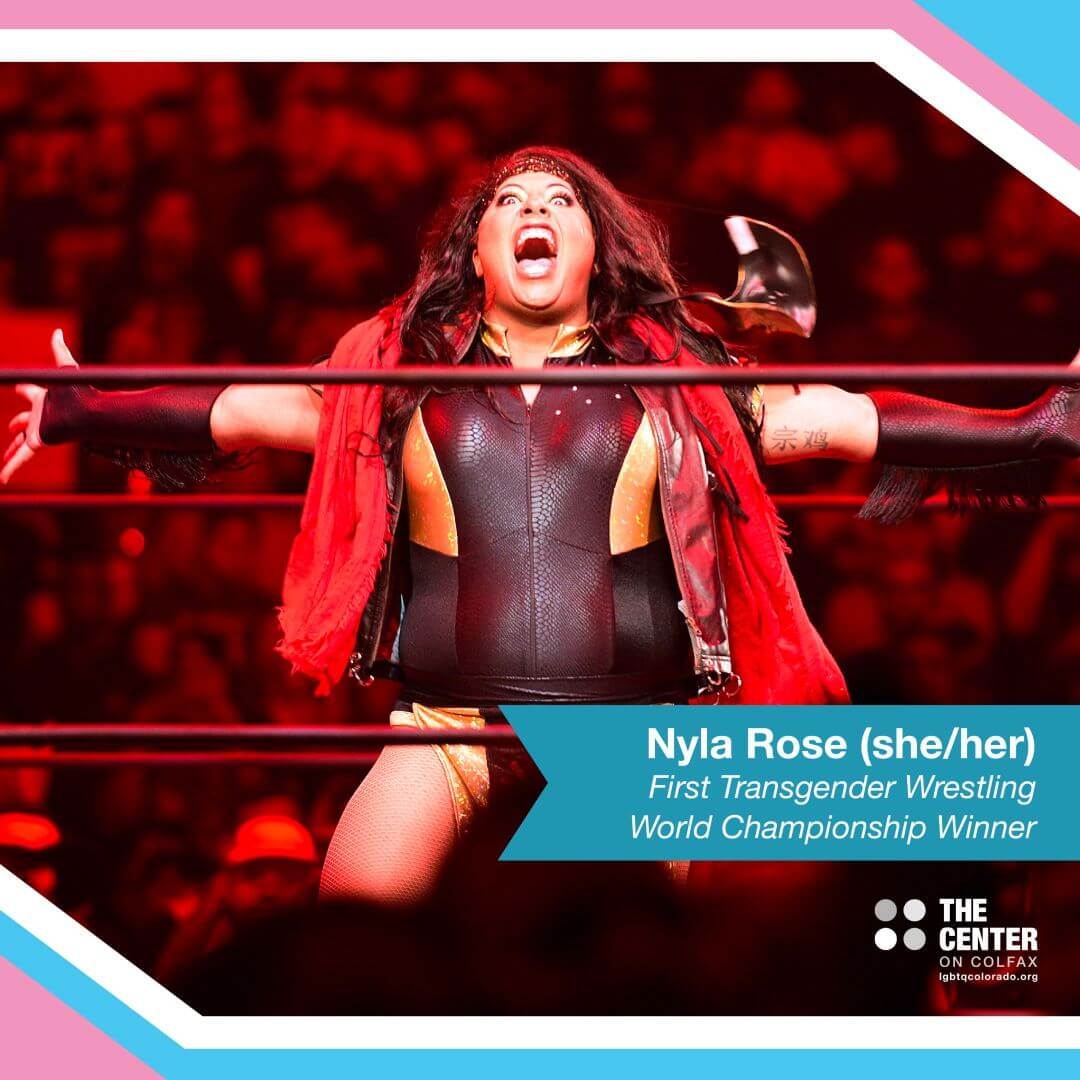 Nyla Rose
Born to the Oneida people, Nyla Rose (she/her) became the first openly transgender wrestler when she signed with the AEW league in 2019. Soon after, Nyla became the first trans woman to win a world championship in U.S. Wrestling in 2020. She has been a vocal advocate for trans rights and has used her position to blaze a trail for fellow trans athletes, and has been a powerful voice for Indigenous people across the U.S. In addition to her wrestling career, Nyla co-wrote the comic Giant-Size X-Men: Thunderbird #1, helping to redefine and revitalize one of Marvel Comic's few indigenous characters. Through her work and life, Nyla has highlighted the intersectionality of racism, transphobia, and the dangers of strictly adhering to a gender binary.
This Saturday, April 1, come to The Center on Colfax from 12:00 – 4:00 PM to join us in celebrating all transgender and gender diverse people! The event will include a gender affirming clothing swap, Queer Jeopardy (featuring trivia about some of the people mentioned in this blog and more!), speed friending, an open mic, food, and more. Visit lgbtqcolorado.org/event/tdov for more information about the event.