Sharon F. Hester, LPC at Rooted Acorn Counseling
Featured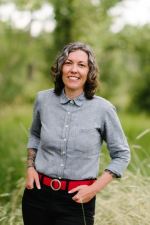 Welcome! I am glad you're here. You deserve healing because being a human is tough. Life is not getting any easier these days for Queer communities. You deserve someone who understands how overwhelmed you are feeling. Know that you can find freedom from the big feelings you have at this moment. You can speak your truth. You can be authentically you. You want this freedom, and are unsure of where to begin. I hear that.
Please know that there are no blueprints here for any human or identity (e.g., queer, trans, cisgender). I want to hear your story. What's important to you? Who's important to you? Who has taught you the most in life? We will talk about those moments of struggle and success to help you recognize your inner powers and strengths.
Maybe you are asking yourself "how can therapy help me?"… Therapy gives you the space for all the things - deep sadness or grief, anxiety, the space to breakdown as well as the space to become a more powerful you, who compassionately speaks your truth to others, perhaps for the first time. Taking the first steps towards change landed you here, and these first steps are huge. You ready for more steps? Ready to deeply connect with yourself and loved ones? It's scary, and worth the work. You are worth the hard work! Everyone deserves to find healing and live a meaningful life.
Finding the right Queer-affirming therapist is important. I get this process is nerve-racking. Any questions you have about therapy I am happy to answer. If you are curious to know more about how my approach can help, let's talk! Visit my website (rootedacorncounseling.com) to schedule a free phone consult and to learn more about me and my therapy work. I look forward to hearing from you!
Send Message to listing owner
DISCLAIMER: The businesses, services and organizations are listed in this directory as a service to the LGBTQ community. The Center makes no promises or guarantees about the accuracy or quality of the services being offered. The community is advised to carefully review the organizations listed in this Resource Directory before making a decision about utilizing any listed services.
If you discover incomplete, false or misleading information on this directory, please send corrected information to info@lgbtqcolorado.org.
NON-DISCRIMINATION AGREEMENT: Vendors, contractors, sponsors, community groups, staff and volunteers, and all other personnel associated with The Center's Resource Directory agree at all times to honor and abide by the following statement of non-discrimination in word and action. Anyone associated with the Directory, or their employees or associates found to be in violation of this agreement will be removed from the Directory.
"All persons associated with The GLBT Community Center of Colorado (The Center) and its Resource Directory will provide service to individuals without regard to an individual's sexual orientation, gender identity/expression, HIV/AIDS status, race, color, national origin, ancestry, creed, religion, sex, gender, physical or mental disability, age, marital status, military status, veteran status, citizenship or any other protected classification in accordance with state, federal and municipal laws."